DELIVERY
All orders will ship within 3-5 business days from the date of payment from our main factory in Malaysia. All packages will be sent via courier.
When shipping overseas, customs can delay packages by up to 6 weeks. This doesn't happen often, but it can happen.
All orders are sent via standard mail/courier, unless noted otherwise. Please contact us directly [email protected] before making payment if priority or first class mail is preferred.
If the shipping address is different from the address provided through buyunclesabas.com please contact the company prior to payment. If you have received an incorrect order, or is/are missing item(s), Do let us know immediately via e-mail with your order information at [email protected]
CUSTOMS CHARGES
All taxes, duties and customs fees are the responsibility of the recipient of the package. These charges vary widely from country to country hence we are unable to advise what the cost would be. Bhavani Foods (M) Sdn Bhd has no control over the fees imposed and we also cannot reimburse the amount in any capacity.
PLACING AN ORDER
First step is to register with us as a member by clicking here.

BROWSE for your preferred items under the PRODUCTS category or by clicking here

Once you have found the item you want, click on the ADD TO CART button and adjust the preferably quantity.

If you want to continue shopping, click CONTINUE SHOPPING button. If you want to review the items in your cart or would like to finish your shopping, click VIEW CART button.

If you're happy with the items in your shopping bag, click CHECKOUT button.

Don't forget to edit the billing and shipping address if they are different! Once completed, click CONTINUE button.

Click your preferred shipping as per list with the listed additional fees. By selecting your preferred shipping, you are agreeing to the shipping fee.

To complete your order, review your order and make payment as per preferred payment method, and click SUBMIT PAYMENT button.

If you have a discount code you'd like to use, key it in the box provided before checking out.
FACING ISSUES DURING YOUR ORDER?
We'd be more than happy to help you sort it out. Just drop us an email with your order information at [email protected].
WHAT PAYMENT METHODS DO WE ACCEPT?
Currently, we accept payment via Credit Card and Online Banking via eGHL, and e-Wallet.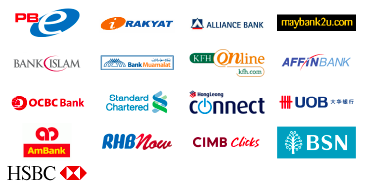 WHY WAS MY ORDER CANCELLED?
In most cases, orders are automatically canceled if we do not receive payments from you via the payment gateway. However, if the amount has been deducted from your bank account, kindly drop us an email with your order information at [email protected].
DO I NEED TO REGISTER ONLINE TO SHOP?
Registering with us helps speed up the ordering process for you, as we would already have with us your billing and shipping details. It also allows you to keep track of your current and past order, and payment status.
HOW DO I CREATE AN ACCOUNT?
Click here to register by filling in your details and following the instructions.
WHAT DO I DO IF I FORGOT MY PASSWORD?
If you've forgotten your password, just click the FORGOT YOUR PASSWORD? button at the login page and it will be emailed to you right away. If you still do not receive an email, write to [email protected] and we will assist you promptly.
WHAT'S YOUR RETURNS POLICY?
If 30 days have gone by since your purchase, unfortunately we can't offer you a refund or exchange. However, if your product is faulty/ defected, we'd be more than happy to offer you a full exchange. Kindly e-mail us your receipt proof and photo proof to [email protected] and we will assist you promptly. For more information on our returns policy, kindly click here.
DON'T SEE THE ANSWER TO YOUR QUESTION HERE?
Kindly drop us an email at [email protected] and we will assist you promptly!